Okay, let's talk about "intersex genitalia", or using its proper term, ambiguous genitalia and how sex is determined. First of all, it is not some doctor, rubbing their chin, doing a sharp intake of breath and writing down a question mark, or a "best guess", with a shrug. This really minimises the experience that parents of intersex babies go through and the advances we have made in identifying and treating DSDs.
Before we begin, let's address what we mean by ambiguous genitalia. Many people think we mean genitalia that cannot be categorised as male or female at all. This is a common misconception. What we're actually talking about is genitalia that cannot be easily classified as male or female upon initial observation. I've written about ambiguous genitalia in genetic females and genetic males who are born with female genitalia before, but here's a quick summary from an alternative source (I'll post the most relevant bits), with some additional information about other forms of male ambiguous genitalia:
Babies who are genetically female (46 XX DSDs) may have:
An enlarged clitoris, which may resemble a penis
Closed labia, or labia which include folds and resembles a scrotum
Lumps that feel like testes in the fused labia
Babies who are genetically male (46 XY DSD) may have:
Hypospadias – when the urethra doesn't fully extend to the tip of the penis
An abnormally small penis with the urethral opening closer to the scrotum
The absence of one or both testicles in what appears to be the scrotum
Undescended testicles and an empty scrotum that has the appearance of a labia with or without a micropenis
One of the conditions that can cause ambiguous genitalia is congenital adrenal hyperplasia (CAH). In the case of salt-wasting CAH (one of the two forms of classic CAH), this can be fatal for babies if left undiagnosed. This of course must be monitored. So, when a midwife sees ambiguous genitalia, a whole raft of experts become involved. This includes, but is not limited to, specialists from endocrinology (hormones), urology/gynaecology (kidneys, bladders, genitals) and psychology. Other team members may include nurses, geneticists, neonatologists, and people who work in the labs. Some smaller hospitals may not have these specialist teams, so the baby may need to be moved to a larger hospital that can offer the required services in one place.
These specialists will carry out a number of investigations and tests. Doctors examine the baby and ask about their family's medical history. They also check the baby's chromosome pattern with a blood test. The chromosome pattern (aka karyotype) helps doctors understand the background to the child's development and consider which direction to take the further tests. The initial karyotype result usually takes 2-3 working days to come back. That's a long time for a new parent.
Many babies are kept in hospital for the first few days so that salt levels in the blood can be monitored. Doctors will also measure hormone levels in the blood, and possibly in the urine, to see how the adrenal glands and gonads are working. Ultrasound tests and scans can sometimes show the internal sex organs (such as the womb/uterus). Again, these are best performed in specialist centres and can sometimes be difficult to interpret. Doctors take their time; they do not shrug and guess. Doctors might rarely look at the bladder and opening of the vagina with a special cystoscope and very rarely they might look at the gonads with a laparoscope and examine tissue samples (biopsies) from them. All of this may be part of the diagnostic process.
Once sex is determined, the doctors' involvement does not end there. If response to hormones has been flagged as an issue, medical interventions will also be necessary to help the child through puberty. It's not a "fun talking point" or just some quirky variety in genitals that causes doctors to throw all medicine and science out of the window. The parent may have to make choices about surgical interventions etc. I've included a couple of tables at the end of this post that expand on some of the DSDs which may present with ambiguous genitalia and the possible interventions that may occur.
All of this at a time when parents are normally celebrating their new arrival. This brilliant booklet from dsdfamilies really hammered home to me how much additional support parents of a new-born intersex baby needs and how different their experience is. I really would recommend reading the whole booklet if you would like to learn more.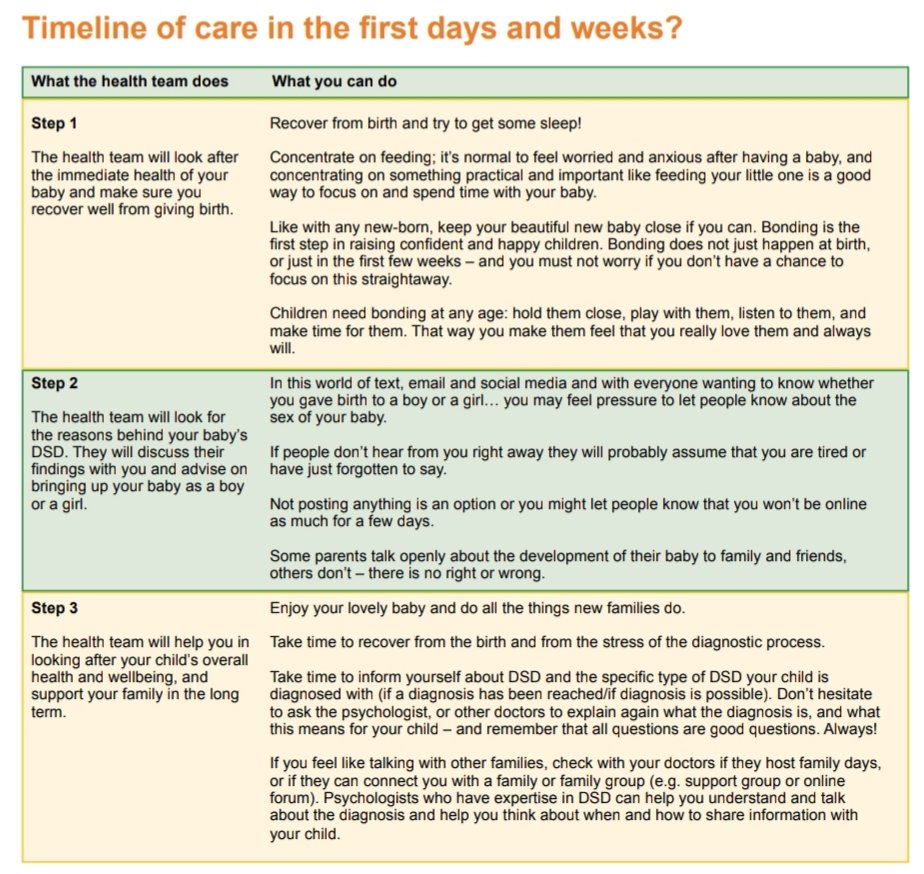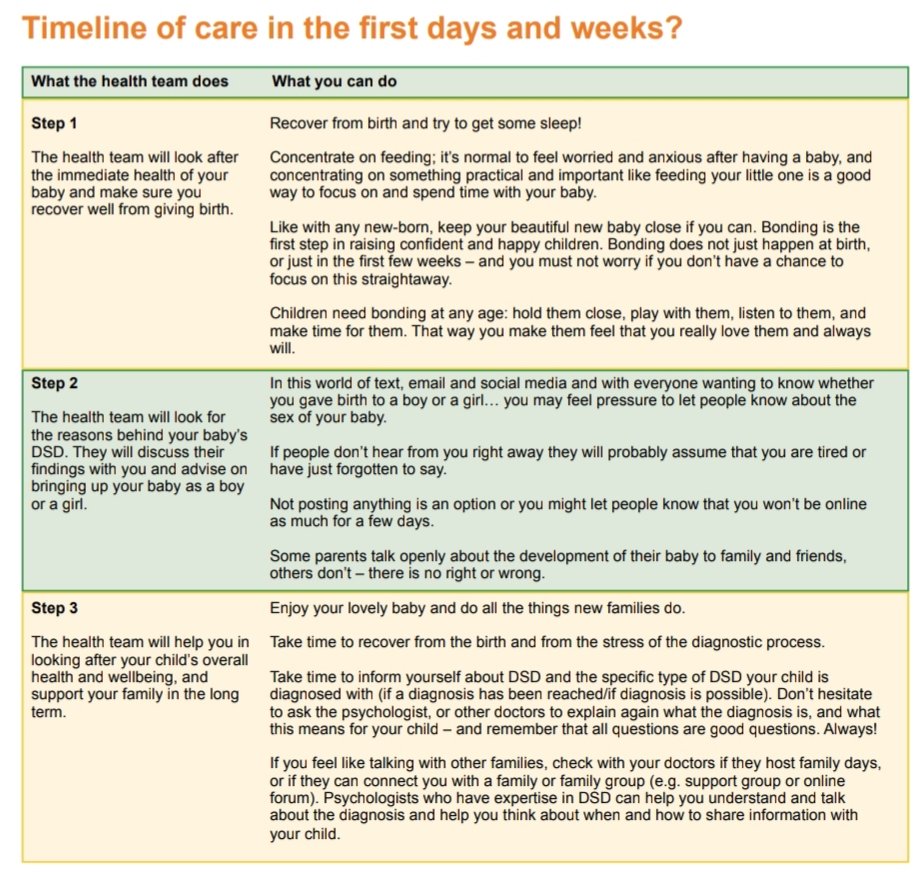 You can also read more about the various DSDs that may result in ambiguous genitalia, the diagnostic process and any treatment that may be needed immediately after birth and throughout the persons lifetime in this clinical guide from the BMJ.